"To sin by silence when they should protest makes cowards of men." -- Abraham Lincoln
---
Can you stomach watching what

o'bamacide

advocates? Yes? Then, Click Here. If not, then why would you even consider voting for

him

?
---
From:
RLSassone@aol.com
Sent:
Sunday, September 16, 2012
Subject:
Obama favors partial birth abortion and infanticide
President

Obama

supports partial birth abortion and infanticide of babies who could survive abortion. By googling

Obama

, partial birth
abortion or

Obama

, infanticide, you can find many transcripts and some audio. Typical examples:
Favors legal partial-birth abortion
Question: What is your view on partial-birth abortion ?
Obama

: I think that most Americans recognize that this is a profoundly difficult issue for the women and families who make these decisions. They don't make them casually. And I trust women to make these decisions in conjunction with their doctors and their families and their clergy.
Source:

2007 South Carolina Democratic primary debate, on MSNBC

Apr 26, 2007
1997: opposed bill preventing partial-birth abortion
In 1997,

Obama

voted in the Illinois Senate against SB 230, a bill designed to prevent partial-birth abortions.

He

has voted against requiring minors who get out-of-state abortions to notify their parents. The National Abortion Rights Action League (NARAL) gives

Obama

a 100% score on his pro-choice voting record in the Senate for 2005, 2006, and 2007.
Source: Obama Nation, by Jerome Corsi, p.238-239 Aug 1, 2008
Partial Birth Abortion Procedure, Wikepedia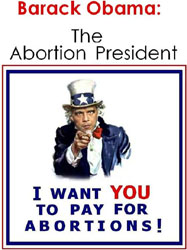 Under the Intact D&X method, the largest part of the fetus (the head) is reduced in diameter to allow vaginal passage. According to the American Medical Association, this procedure has four main elements.[3] Usually, preliminary procedures are performed over a period of two to three days, to gradually dilate the cervix using laminaria tents (sticks of seaweed which absorb fluid and swell). Sometimes drugs such as pitocin, a synthetic form of oxytocin, are used to induce labor. Once the cervix is sufficiently dilated, the doctor uses an ultrasound and forceps to grasp the fetus's leg. The fetus is turned to a breech position, if necessary, and the doctor pulls one or both legs out of the cervix, which some refer to as 'partial birth' of the fetus. The doctor subsequently extracts the rest of the fetus, leaving only the head still inside the uterus. An incision is made at the base of the skull, a blunt dissector (such as a Kelly clamp) is inserted into the incision and opened to widen the opening,[4] and then a suction catheter is inserted into the opening. The brain is suctioned out, which causes the skull to collapse and allows the fetus to pass more easily through the cervix. The placenta is removed and the uterine wall is vacuum aspirated using a cannula.[5]
Opposed legislation protecting infants surviving abortions
Obama

has consistently refused to support legislation that would define an infant who survives a late-term induced-labor abortion as a human being with the right to live.

He

insists that no restriction must ever be placed on the right of a mother to decide to abort her child.
On March 30, 2001,

Obama

was the only Illinois senator who rose to speak against a bill that would have protected babies who survived late term labor-induced abortion.

Obama

rose to object that if the bill passed, and a nine-month-old fetus survived a late-term labor-induced abortion was deemed to be a person who had a right to live, then the law would "forbid abortions to take place."

Obama

further explained the equal protection clause of the Fourteenth Amendment does not allow somebody to kill a child, so if the law deemed a child who survived a late-term labor-induced abortion had a right to live, "then this would be an anti-abortion statute." Source:

Obama Nation

, by Jerome Corsi, p.238 Aug 1, 2008
New Audio Surfaces of Obama Defending Infanticide in Illinois
by Steven Ertelt | Washington, DC | LifeNews.com | 8/23/12 4:01 PM
President

Barack Obama

was the only member of the Illinois legislature to not support a bill to provide medical care for newborns who survived failed late-term abortions.
OBAMA: As I understand it, this puts the burden on the attending physician who has determined, since they were performing this procedure, that, in fact, this is a nonviable fetus; that if that fetus, or child - however way you want to describe it - is now outside the mother's womb and the doctor continues to think that its nonviable but there's, lets say, movement or some indication that, in fact, they're not just out limp and dead, they would then have to call a second physician to monitor and check off and make sure that this is not a live child that could be saved. Is that correct?
OBAMA:

Let me just go to the bill, very quickly. Essentially, I think, as - as this emerged during debate and during committee, the only plausible rationale, to my mind, for this legislation would be if you had a suspicion that a doctor, the attending physician, who has made an assessment that this is a nonviable fetus and that, lets say for the purposes of the mother's health, is being - that - that labor is being induced, that that physician (a) is going to make the wrong assessment and (b) if the physician discovered, after the labor had been induced, that, in fact, he made an error, or she made an error, and, in fact, that that physician, of his own accord or her own accord, would not try to exercise the sort of medical measures and practices that would be involved in saving that child. Now, if - if you think that there are possibilities that doctors would not do that, then maybe this bill makes sense, but I - I suspect and my impression is, is that the Medical Society suspects as well that doctors feel that they would be under that obligation, that they would already be making these determinations and that, essentially, adding a - an additional doctor who then has to be called in an emergency situation to come in and make these assessments is really designed simply to burden the original decision of the woman and the physician to induce labor and perform an abortion. Now, if that's the case - and - and I know that some of us feel very strongly one way or another on that issue - that's fine, but I think it's important to understand that this issue ultimately is about abortion and not live births. Because if these children are being born alive, I, at least, have confidence that a doctor who is in that room is going to make sure that they're looked after.
Please publicize the web site 'Republican Replies' to legislators, candidates, media, et al.
And forward this email if you agree.