GRAVE DANGER
Babies aborted since January 1973:
U.S. Abortionists killing profits:
$24,767,198,000.00
Infanticide worldwide since January 1995:
532,072,921

to

553,452,951
Babies killed in the U.S. since Bush was inaugurated in 2000:
20,114,115
In the 1,369 days of

o'bamacide

's term U.S. babies murdered during/after live birth:
Total U.S. babies murdered during/after live birth since Roe v Wade:
Approximately 25% of all U.S. negro babies, since 1973, have been exterminated by abortionists.
[..to apply a stern and rigid policy of sterilization and segregation [in camps] to that grade of population whose progeny is tainted, or whose inheritance is such that objectionable traits may be transmitted to offspring." [..by force if necessary.] "..during 1933 in Sanger's The Birth Control Review (immediate predecessor to the Planned Parenthood Review) an article by Ernst Rudin (1874-1952) was published entitled, "Eugenic Sterilization: An Urgent Need." Rudin was Adolph Hitler's director of genetic sterilization and a founder of the Nazi Society for Racial Hygiene. (Various references in Grand Illusions) History documents that Sanger supported the Nazi Party philosophies." [Planned Parenthood's Nazi roots]
; and -eugenical race-purification by prevention of births to parents from 'inferior' blood stocks ('birth control societies'). "Before the Auschwitz death camp became a household word, these British-American-European groups called openly for the elimination of the 'unfit' by means including force and violence." **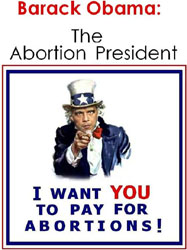 Planned Parenthood

's Annual Report: Got $487.4M in

Tax

Money
...
Jan 3, 2012 –
...
(
PPFA
) received
$

487.4 million
in
tax dollars
over a twelve-month period and performed
329,455
abortions
.
Planned Parenthood Federation:
What is a child's life worth to a baby killer? $1,478.20!
Kommen Sie Jetzt Herein. • Enter Now • Entrez Maintenant
"
Auschwitz in America
" Visit "America's Final Solution" at http://773.harrold.org

1.

No offensive pictures are displayed; however, sites are linked that may have disconcerting images or narratives of events and procedures repugnant, abhorrent, and abominable to human nature albeit legal in many otherwise sane societies.

2.

This site presents a discourse in words and images biased toward the view that life is more important than monied self interests or concerns of vain self conceit and that the chance to live, once started, is not solely within the agenda of either religion or politics.

3.

Further, that developing and living beings should not be harvested for body parts or experimentation nor under the guise of population control should any human be killed.

Click on the play button to hear the
" I see dead people.", sound clip from the movie "The Sixth Sense" (1999)