Third party programs and toolbars; what you need to know
---
Posted by: Timothy Tibbetts on 08/07/2014 07:43 AM at:
---
Majorgeeks
has been in the
file
download business for almost 15 years now and we have been downloading programs for 20 years now. A lot has changed in that time.
Back when we started, things were pretty simple. Downloads were either
freeware
or shareware. What separated us then, and still does, is that we try and only list the best
programs
. This is why MajorGeeks has maybe 7,000 listings, while larger sites have 600,000 or more. We certainly are not perfect, but we are proud of what we do.
Here we are now in 2014 and we have a new "threat" to watch out for. I put threat in quotes because the reality is that you can easily avoid this problem.
The "threat" is third party programs,
toolbars
or changes to your computer including your default search and\or home page when installing a free program. People have become accustomed to free programs and these toolbars or third party programs allow a developer to make money through advertising. It's not always a bad thing and when these are bundled with a program they are called adware or advertising supported programs. MajorGeeks now classifies it as Bundleware.
We try to warn you in advance. When we are aware, the download page will note that this download has a toolbar or third party
application
bundled as well as called "Bundleware" instead of Freeware. The text looks exactly like this, with a link to this article:
This program is advertising supported and may offer to install third party programs that are not required for the program to run. These may include a toolbar, changing your

homepage

, default search engine or other third party programs. Please watch the installation carefully to opt out.
All you need to do is take an additional 10 seconds to watch for anything trying to install and opt out.
You could also install
a program called Unchecky
that should watch for any sort of additional software and alert you.
Here are a couple of images to give you an idea what you are looking for:

This is a common style to watch for where they want to install the Ask Toolbar, search and home page. A couple of

click's

and you don't install it: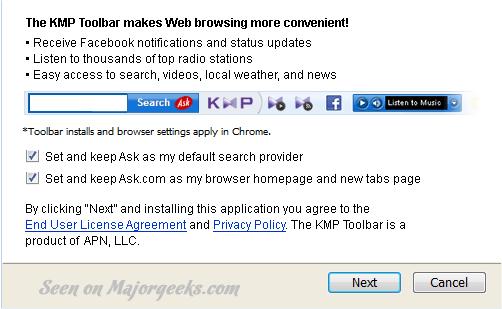 In this version of express install, there's a bit to see here that makes it stand out. While the custom

installation

is a lighter color, it still should be obvious: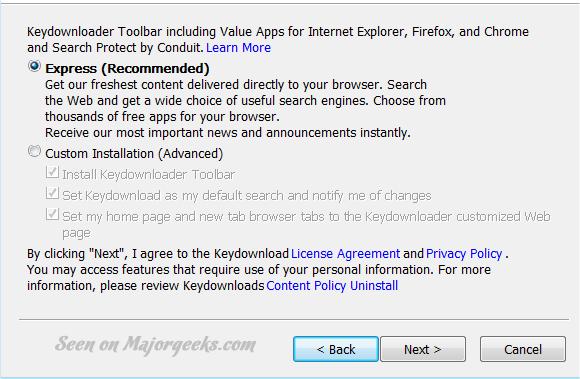 This version is the same as above except there is little to see here. It would be pretty easy to skip right by it if you weren't paying attention: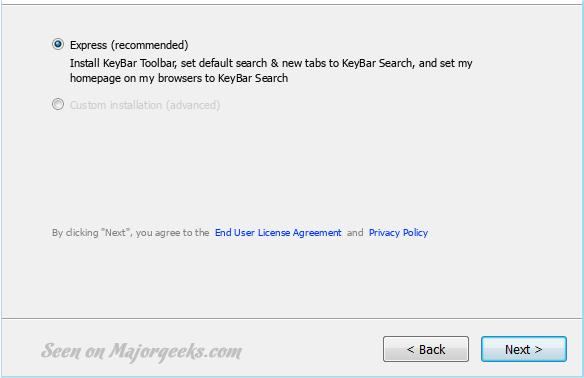 There are
two things
that MajorGeeks has screamed over and over again for all of these years:
1. Slow down and read.
2. Backup

your

computer

.
Now you know.
Send to Kindle