"Freedoms Foes"
Bob Filner reference:
http://www.keywiki.org/index.php/Bob_Filner
Born in Pittsburgh on September 4, 1942, and raised in New York City, Bob Filner moved to the San Diego area in 1970. He and his wife,
Jane Merrill
, have two adult children.
[1]
Education/academia
Filner holds a science degree and one of only 18 members in the House holding a Ph.D.
He spent twenty years tenured as a Professor of History at San Diego State University, ..
Civil Rights activism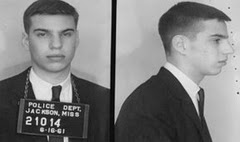 In 1961
,
Bob Filner spent several months in a southern jail
as a "Freedom Rider" in the Civil Rights movement.
Five "Freedom Riders" were arrested in Jackson. Four of the five were college students and one
Elizabeth Hirschfield
, was a laboratory technician at the Atomic energy commission, in Ithaca New York.
One of the four students Bob Filner was an 18 year old engineering student at Cornell, where he was the
founder of the
Cornell Liberal Union
. Filner later taught at the
Tuskegee Institute
and p
articipated in the 1965 Selma to Montgomery March
.
[2]
Father's legacy
After Bob Filner became involved in politics, one of the people who
campaigned for him was
Andrew Young
,
then mayor of Atlanta, Ga. Young had been
mentored by
Martin Luther King
, and he remembered,
King's financial backer
Joseph Filner
well.
At one point, he told a campaign rally that
he supported Bob Filner's candidacy not only because of their shared Democratic viewpoints, but also, quite simply, "because of his daddy."
[3]
Sponsored Communist Party "Jobs Bill"
H.R. 950, the Job Creation and Infrastructure Restoration Act of 1997 was introduced in the 105th Congress on March 5, 1997 by Congressman
Matthew Martinez
of California. It had 33 original co-sponsors, including
Bob Filner
. The primary purpose of this emergency federal jobs legislation was to provide much needed jobs at union wages to crisis ridden cities by putting the unemployed to work rebuilding our nation's infrastructure (schools, housing, hospitals, libraries, public transportation, highways, parks, environmental improvements, etc. $250 billion is authorized for emergency public works jobs over a five year period.