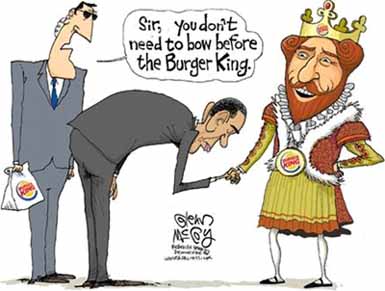 By: Byron York, Chief Political Correspondent, Washington Examiner, 11/14/09 11:56 AM EST

Remember when Barack Obama bowed before the King of Saudi Arabia at the G-20 summit in London last April? Even though the bow was captured by still and video photographers, the White House denied that it had taken place. "It wasn't a bow," an unnamed White House official told the Politico's Ben Smith. "He grasped his hand with two hands, and he's taller than King Abdullah."

The controversy raged in the blogosphere, but most of the old press ignored the question -- especially after the National Republican Senatorial Campaign Committee injected a bit of partisanship when it said Obama had "paid fealty" to Abdullah with the bow. Obama's defenders, while not conceding that the president had bowed to the king, said George W. Bush had done the same thing earlier.

The issue festered for a few days until a CNN reporter asked White House press secretary Robert Gibbs about it:

QUESTION: When the President met with King Abdullah, there was something that took place which I believe the White House explained was just the president being taller than the king. We took a look at the video, and it does appear that the president actually bowed to King Abdullah. Did he bow or didn't he?

GIBBS: No, I think he bent over with both, to shake -- with both hands to shake his hand, so I don't--

QUESTION: Did he bow or didn't he?

GIBBS: No.

So the official word was: Obama didn't bow.

Now, we have a new photo of the president bowing to the emperor of Japan. It's the kind of image that just doesn't sit well with many Americans. The president, as the elected representative of the United States, should not be in the habit of bowing to foreign leaders, royal or not. Obama's deep, subservient bow makes it even worse; this was no little nod.

What will the White House explanation be? Emperor Akihito is certainly shorter than Obama, so perhaps the White House will roll out the old "he's taller than King Abdullah" story. Perhaps Gibbs will deny that it happened at all. Neither will fly. This is something the president should explain.

---