related resources














This Day in History, January 30th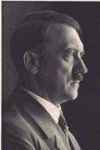 Hitler Is Appointed Chancellor of Germany (1933)
Hitler's rise to power began long before 1933, with his development of the Nazi party in the early 1920s and the widespread release of his book, Mein Kampf, in 1925. After the Nazi party lost seats in Germany's November 1932 parliamentary elections, leading businessmen and political figures appealed to Germany's president to appoint Hitler chancellor. As chancellor, Hitler quickly moved to eliminate his rivals and consolidate his power. How did Hitler then become Führer, or leader? More...

"...

well, the first thing I'd do as president is sign the 'freedom of choice' act

."

(Barrack Obama, 2008)




On October 4th, 1943, the Reichsführer-SS, Heinrich Himmler, gave a three-hour speech. The audience was an assembly of SS Gruppenführer, officers with rank roughly the equivalent of Lieutenant-General. The speech was given in the city of Posen (or Poznan), in what is now Poland. Approximately two hours into the speech, Himmler made some extremely damning and revealing statements regarding the extermination of the Jewish people:


[citation: Himmler, Heinrich. Speech to group of SS-Gruppenführer at Posen, Poland, October 4th, 1943. U.S. National Archives document 242.256, reel 2 of 3.]

In
Hitler
's
Nazi
Europe [
Waffen SS
]
,
Voices From The Past
. [Note: traumatic events are detailed. Read/Listen with the appropriate care. (
IIT
(src))]
---
Watch and listen for
subtle
and
blatant
propaganda messages
, being used now
as in the past
.
"In Germany. First, they came for the socialists, and I did not speak out because I was not a socialist. Then they came for the trade unionists and I did not speak out because I was not a trade unionist. Then they came for the Jews, and I did not out speak out because I was not a Jew ... Then they came for me, and there was no one left to speak for me." --
Pastor Martin Niemoller
(b.1892-d.1984)
(
Background
,
More
,
Bibliography
,
Sermon 'The Salt of the Earth'
,
Wiesenthal Center Photos
,
Links
,
Congressional Record, October 14, 1968, page 31636
,
Resistance
)
The Negro Question:
..government and health care policies often discourage Black women from choosing life for their babies..
Abortion in the Black Community: Google's Index
.. Between 1882 and 1968, 3,446 Blacks were lynched in the U.S. That number is surpassed in less than 3 days by abortion. 1,452 African-American children are killed each day by the heinous act of abortion. 3 out of 5 pregnant African-American women will abort their child. Since 1973 there has been over 13 million Black children killed and their precious mothers victimized by the U.S. abortion industry. With 1/3 of all abortions performed on Black women, the abortion industry has received over 4,000,000,000 (yes, billion) dollars from the Black community. ..source: BlackGenocide.com
Extrapolated: 34% of American Unborn Children are Killed at the rate of 1 Death Every 23.7 seconds!

---
related:
America's Final Solution
LifeNews
•
harrolds.blogspot.com
•
obamacide action$
...today's Holocaust: Casualties, one cross

= 50,000 or less
Equating abortion with genocide is well founded.
Many are unaware of Planned Parenthood founder Sanger's "
Negro Project
," "
the eugenic plan to limit — or exterminate — the black race and others
"
unfit to reproduce
." [..to apply a stern and rigid policy of sterilization and segregation [in camps] to that grade of population whose progeny is tainted, or whose inheritance is such that objectionable traits may be transmitted to offspring." [..by force if necessary.] "..during 1933 in Sanger's
The Birth Control Review
(immediate predecessor to the
Planned Parenthood Review
) an article by
Ernst Rudin
(
1874-1952
) was published entitled, "
Eugenic Sterilization: An Urgent Need
."
Rudin was Adolph Hitler's director of genetic sterilization and a founder of the Nazi Society for Racial Hygiene
. (Various references in Grand Illusions) History documents that
Sanger supported the Nazi Party philosophies
." [
Planned Parenthood's Nazi roots
] ; and -eugenical race-purification by prevention of births to parents from 'inferior' blood stocks ('birth control societies'). "Before the Auschwitz death camp became a household word, these British-American-European groups called openly for the
elimination of the 'unfit' by means including force and violence
." **
[ Negroes, Jews, the unfit, infirm, homosexuals & unwanted...beware ]
Historically
,
killing children
has been one of the most
heinous crimes
imaginable,
behaviour more animalistic than human
. It is ironic that many
ethnic
,
racial
, & religious groups [
exception
] who in
times recent
,
marked for death
, suffered
unspeakable terrors
, harbour '
Dr. Mengeles
' among themselves, support or vote for
prostituted politicians
,
government sponsored
&
tax paid abortion mills
, or
lobby for laws
that they or their forebearers
fell victim
to during
World War II
when it was called '
Crimes Against Humanity
', as in that
war
, our
Civil War
,
Negro
Slavery
, or
genocide
as in
Armenia 1915
,
Communist Tyranny
(
test your knowledge
), the
Nanjing Massacre
or simply
Mass Genocide
. May it be said to those peoples: Please, think before
propagandizing in media
, using your money (or tax funds) publicizing, joining or financing
pro-death advocacy organizations
, buying or promoting
products
from or using any services of
abortion related or profiteering companies
.
And, to churches and religous groups, if you truely sanctify life, cleanse yourselves, find and dis-associate from those whose activities further desensitizes us individually and as a nation.
Afraid of public advocacy? Privately in the voting booth you have a strong weapon. Vote for Pro-Life candidates.

"Elections Aren't Won by Who Voted, They're Lost by Who Didn't"

~~ rfh
---