S.1670 - Call the U.S. Senate via 866-220-0044 or 202-225-3121
Read about this bill,
The Pain-Capable Unborn Child Protection Act
of 2014 -- S.1670 at
:
http://capwiz.com/sbalist/issues/bills/?bill=63003881&alertid=63003886
government contacts:
http://harrold.org/rfhextra/contact_the_US_government.html
--------------------------------------------------------------------------------
From: Congresswoman. Marilyn Musgrave, SBA List Sent: Friday, December 27, 2013 Subject: Take Action: Save Lives
As we get closer to the New Year, I have been reflecting on the highlights of 2013. One such triumph was the June vote on the Pain-Capable Unborn Child Protection Act. This bill, which protects unborn babies - capable of feeling excruciating pain more than halfway through pregnancy, passed in the House of Representatives. It was the first time that Congress voted to protect an entire class of unborn children. The fight to protect these unborn babies continues in the Senate into 2014.
The Pain-Capable Unborn Child Protection Act (S.1670) was introduced by Sen. Lindsey Graham (R-SC) in November. It is critical that the Senate join the House in holding a vote on this historic legislation in 2014. The Pain-Capable Unborn Child Protection Act is the SBA List's legislative priority going into 2014.
Even pro-abortion Senator Harry Reid - Majority Leader in the Senate - said he would be "happy to take a look" at it. But in order to force a vote in the Senate,
your Senators need to hear from you
. They must understand that protecting unborn babies from the horror of late abortion is the top priority.
Click here to use our Action Center to quickly send a message to your Senators asking them to co-sponsor and advance the Pain-Capable Unborn Child Protection Act (S.1670). Action Center URL
:
http://capwiz.com/sbalist/issues/alert/?alertid=63003886
Once you have take action, do not forget to forward this on to all of your pro-life friends and family so they, too, can tell their Senators to support this historic bill.
Thank you,
Congresswoman Marilyn Musgrave, Vice President for Government Affairs,
Susan B. Anthony List
:
http://www.sba-list.org
_______________________________________________________
Father Documents Premature Son's Amazing Progress on Film
http://www.lozierinstitute.org/father-documents-premature-sons-amazing-progress-on-film/
Take a moment to watch this fascinating video taken by a father documenting the first year of life of his son, who was born 3.5 months premature, and his incredible progress. Photographer Benjamin Scot Miller captured the dramatic first year of his son Ward's life on camera - including Ward's first 107 days spent in the neonatal intensive care unit (NICU) at Nationwide Children's Hospital in Columbus, OH. The short film shows Ward's incredible journey from a fragile 1.5 pound "preemie" to a happy and healthy 1 year old.
Ward Miles'- First Year - http://vimeo.com/78393869
[ o'bamacide would use you and your money to kill all the little ones like Ward Miles! -- rfh ]
--------------------------------------------------------------------------------
CLI Paper Details Abortion Funding in Obamacare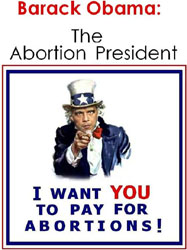 A new paper released today by the Charlotte Lozier Institute (CLI is the education and research arm of the Susan B. Anthony List) details the taxpayer subsidization of abortions enabled by the Multi-State Plans (MSP) created by the Affordable Care Act. (CLI URL
:
http://www.lozierinstitute.org
)
Chuck Donovan, president of the Lozier Institute, lays out research to prove that, through the MSPs, between 71,000 and 111,500 abortions per year will be heavily subsidized by taxpayers via federal premium tax credits and Medicaid expansion.
"The issue of whether the Affordable Care Act creates streams of taxpayer funding for abortion has been hotly debated," said Donovan, when releasing the paper. "Research done by the Lozier Institute makes clear that, through the Multi-State Plans alone, Americans will be complicit in the deaths of thousands of unborn children each year through their tax dollars.
"Yesterday in a piece at NRO's The Corner, Donovan also pointed out that via the "Navigator program," the Obama Administration is paying America's largest abortion provider, Planned Parenthood, to funnel consumers towards abortion-funding plans in the MSPs.
"We have passed the law and now we are beginning to find out what is really in it," concluded Donovan.
---